In July, the largest 42 cement companies in China will take further steps to measure and manage their GHG emissions. These companies produce approximately 400 million metric tons of cement per year, accounting for over 30% of Chinese cement production. Cement production is a major source of carbon dioxide emissions, accounting for five percent of the global total. China's cement sector alone accounts for 45% of global cement production.
In an attempt to provide companies with comprehensive tools to measure GHG emissions and identify mitigation opportunities, WRI in partnership with Lawrence Berkeley National Laboratory (LBNL), China Building Materials Academy (CBMA), China's National Development & Reform Commission, US Environment Protection Agency, US Department of State, and E3M will hold a four-day training workshop for the 42 cement companies.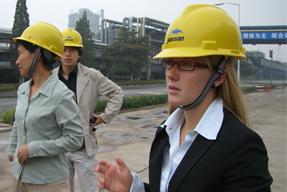 CBCSD, WBCSD, and WRI convened an oil and gas sector working group to visit Yan San Oil Refinery, outside of Beijing, September 2007
In the past year, WRI with its partners held two training workshops on GHG accounting for Chinese cement companies. However, this workshop is the first to integrate three complimentary tools to enable companies to measure emissions, assess the causes of process and energy inefficiencies and come up with technical solutions to reduce energy consumption and GHG emissions.
The three tools in question were developed separately but will now be integrated through a common input and output functionality to work together to aid GHG management decisions. The Cement Sustainability Initiative's (CSI's) CO2 Quantification Protocol Tool enables companies to quantify emissions on corporate and plant levels. The Benchmarking and Energy Saving Tool for Cement (BEST-Cement) helps companies to compare commercially-available efficiency technologies used anywhere in the world. The Process Heating Assessment and Survey Tool (PHAST) offers methods to identifying energy saving opportunities and estimating cost savings. The training program will also enable data to be collected simultaneously for all tools.
The July workshop is the kick-off event for an ambitious three year project. The project aims to reduce energy use and energy-related GHG emissions in Chinese cement factories by 10-15% by 2012. Funded by the US Department of State, through the Cement Task Force of Asia-Pacific Partnership, the project will design an economically-viable, environmentally-friendly co-processing program and conduct plant co-processing demonstrations in 6 Chinese plants. The development, documentation, and dissemination of technical guidelines will be carried out to enhance the capacity of the entire Chinese cement industry.