Title
Philippine Greenhouse Gas Program Launched in Manila
The Philippines Greenhouse Gas Accounting and Reporting Program (PhilGARP) was officially launched at the Mandarin Oriental Hotel in Manila on November 30, 2006. The event culminated in the signing of a Memorandum of Understanding (MOU) between program partners Klima Climate Change Center of the Manila Observatory (Klima-MO), Philippine Business for the Environment (PBE), the Department of Energy, the Environmental Management Bureau of the Department of Environment and Natural Resources (EMB-DENR), and the World Resources Institute.
The program is supported in large part by the U.S. Agency for International Development (USAID).
The World Business Council for Sustainable Development (WBCSD), the last program partner, was not present at the event but signed the MOU in Geneva, Switzerland. Distinguished guests from each of the program partners delivered keynote speeches to an audience of over 70 attendees from various Philippine businesses, NGOs, and government agencies. The program is designed to train businesses and organizations operating in the Philippines on greenhouse gas (GHG) management based on WRI/WBCSD's The Greenhouse Gas Protocol: A Corporate Accounting and Reporting Standard (Revised Edition). In providing technical assistance and capacity building, PhilGARP aims to provide a platform for public reporting and information dissemination on GHG management issues. Prior to the launch of the program, a two-day "training of trainers" workshop was held in Tagaytay City, two hours outside of Manila. The workshop included technical training on developing a corporate GHG inventory and program design considerations. Over 20 representatives from relevant government agencies, business and industry organizations, GHG-intensive industry sectors participated. Following the launch, a pilot group of businesses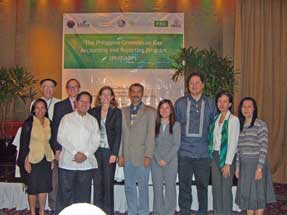 will be selected for participation.
Right: Program partners Manila Observatory (Klima-MO), WRI, and Philippine Business for the Environment signed a Memorandum of Understanding to officially establish the Philippine Greenhouse Gas Accounting and Reporting Program.