In her final act as Minister of Environment, then-Minister Marina Silva launched the Brazil Greenhouse Gas Protocol Program on May 12 in Brasilia. The program will serve as a national public registry for corporate GHG inventories, calculation methodologies, and emission factors.
"The fact that we are beneficiaries of differentiated responsibilities does not give us the right to pollute, does not mean that our countries can follow the same path as the countries that have stable economies," said Silva, referring to a provision in the United Nations Framework Convention on Climate Change that differentiates the responsibilities of developed and developing countries to address global warming. "We must bring together the best of our techniques to face these challenges."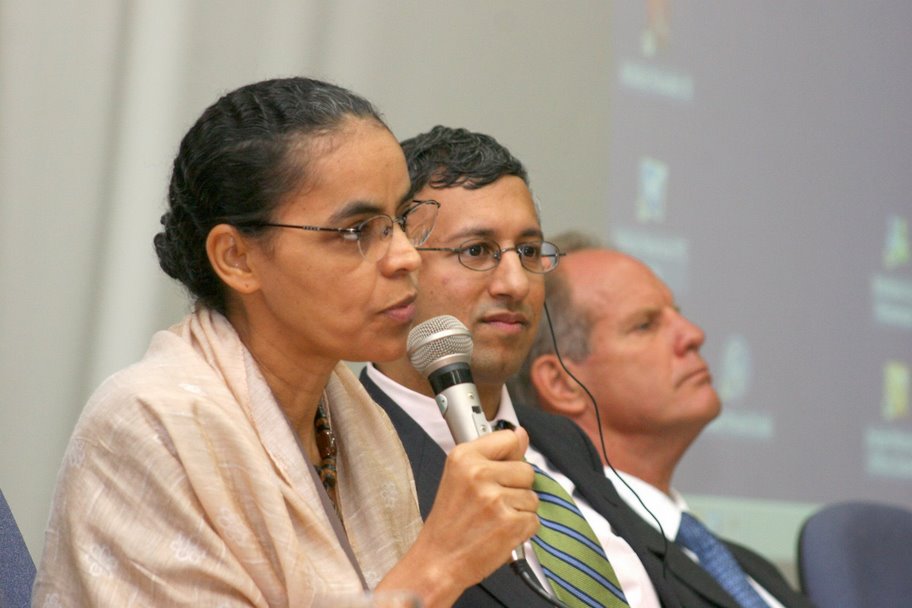 Marina Silva (Ministry of Environment), Manish Bapna (WRI), and Fernando Almeida (CEBDS) at the launch event in Brasilia.
The Brazil GHG Protocol Program is a partnership of Brazil's Ministry of Environment, the Brazilian Business Council for Sustainable Development, the Fundação Getúlio Vargas, the World Business Council on Sustainable Development, and the World Resources Institute.
The partnership was launched with 16 founding member companies, and 5 additional companies have since joined the program. Participation in the program is voluntary; participants receive training and capacity-building on GHG accounting issues in exchange for publishing annual GHG inventories. The founding members are:
Brazil is the third country after Mexico and the Philippines to develop a national GHG emissions program based on the Greenhouse Gas Protocol, which was jointly developed by WRI and WBCSD. The GHG Protocol's Corporate Accounting and Reporting Standard is the leading standard for measuring and reporting corporate emissions. Building on the GHG Protocol ensures consistency with international accounting and reporting practices.