The Climate Registry has finalized its General Reporting Protocol, which provides a consistent framework for companies and organizations across North America to measure and publicly report their Greenhouse Gas emissions. To date, the Climate Registry has the participation of over 250 reporting organizations, including WRI.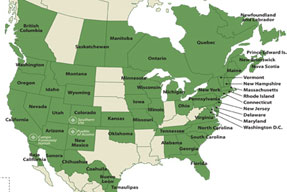 Launched in April 2007, the Climate Registry offers a unified Greenhouse Gas (GHG) emissions accounting system that allows accurate, consistent, and verifiable reporting across sectors and geographic borders. The platform is currently supported by over 40 U.S. states and tribes, 7 Canadian provinces, and 6 Mexican states. Companies and organizations that join the Registry agree to measure and publicly report their GHG emissions for all operations in the United States, Canada and Mexico. By reporting each year, companies and organizations provide a public record of their emissions over time.
The General Reporting Protocol is based on the GHG Protocol's Corporate Accounting and Reporting Standard, developed by WRI and the World Business Council for Sustainable Development. Building on the GHG Protocol ensures consistency with international accounting and reporting practices. WRI's GHG Protocol team also helped develop the Climate Registry's protocol.