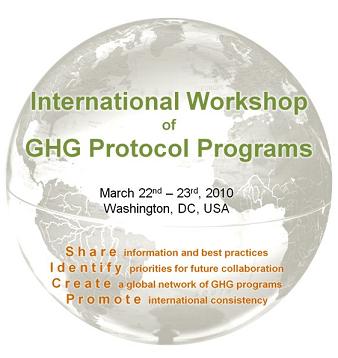 New developments are driving the need for GHG accounting programs around the world to evolve more efficiently, more effectively, and at a greater scale. On the business side, there is a trend toward managing GHG emissions along the value chain. Companies are looking up and down the supply chain and throughout the product life-cycle for GHG management opportunities. As climate policy becomes a reality in industrialized and developing countries around the world, many emerging economies are adopting voluntary national GHG mitigation targets and identifying the policies and measures to best achieve them. These trends point to the need for greatly enhanced GHG accounting capacity and tools at a global scale to ensure that mitigation actions can be measurable, reportable and verifiable.
With this aim in mind, approximately fifty experts from Greenhouse Gas inventory programs convened in spring of 2010 to participate in a two-day discussion where they shared experiences, discussed opportunities, and generated recommendations for future development. The two-day meeting was organized around six major themes: accounting and quantification, reporting and public disclosure, quality assurance, training and capacity building, going beyond measurement to management, and the relationship between voluntary programs and climate change policy. See presentations from the meeting here. 
Recommendations 
Participant feedback identified three critical areas where more development is needed: (1) dramatically increasing the scale of corporate GHG accounting capacity, in terms of geography, sector, and scope; (2) moving companies and governments along the path from GHG measurement to GHG management; and (3) enhancing harmonization between programs on a range of issues as GHG accounting practice becomes more widespread and complex. Key workshop recommendations are summarized below:
Getting to Scale
GHG programs can help companies understand the business case of emissions measurement, management, and reporting by documenting and disseminating real examples and case studies illustrating bottom-line benefits, particularly in countries and sectors where the concept of corporate social responsibility has not yet gained traction, where there is no immediate regulatory threat concerning GHG emissions, and in small and medium-size enterprises.
As demand for GHG information increases, a cadre of qualified professionals will be required to provide a range of GHG-related services. Therefore, a strong push to innovate more efficient models of capacity building on GHG accounting, inventory quality assurance, and verification is required. Local educational institution partnerships, certification programs, and increased training of verifiers will address these capacity needs.
GHG programs will also need to be "scaled out," or established in other rapidly growing economies with rising emissions but little institutional GHG accounting infrastructure. Existing programs can build on their technical know-how and implementation experience to institute new programs in such countries.
Moving from Measurement to Management 
Most GHG programs to date have been focused on promoting measurement and reporting of corporate-level GHG emissions. In the future, GHG programs need to broaden their scope beyond measurement to explicitly address emissions management. A first step toward this goal may be developing guidance for businesses to formulate GHG management strategies. Some companies are already looking beyond today's best practices to pioneer "climate-safe" next practices, and GHG programs have a significant role to play in facilitating exchange of ideas to move other companies in this direction.
Promoting Consistency and Harmonization
Finally, as the practice of GHG accounting becomes more widespread throughout a range of countries and sectors, the need to promote consistency and harmonization among various programs and initiatives has become more acute. GHG programs can identify select elements to focus on that are critical to harmonize across programs, such as reporting requirements and systems and inventory data elements. Ensuring consistency will also make it easier for multi-national companies to report to corporate GHG programs in various countries.
Next Steps
"The workshop provided an excellent forum for GHG programs from all over the world to learn about what their counterparts have been doing, share best practices, and identify what needs to be done to continue advancing global GHG accounting, reporting and management," said Kaleigh Robinson, Research Analyst with the GHG Protocol Brazil Program.
The GHG Protocol will be publishing and disseminating a complete set of recommendations generated in the workshop. The Protocol is also strongly considering convening subsequent annual international workshops to continue enabling programs to share experiences and identify common approaches to cross-cutting challenges; to gather programs to ensure that recommendations have been taken forward; and to lay the foundations for a global network of GHG Protocol-based programs and registries.