On July 16, Tsinghua University's Energy and Environmental Economics (3E) Institute and the World Resources Institute hosted a workshop to discuss 'Methodologies for Calculating Product and Supply Chain Greenhouse Gas Emissions and Embodied Carbon.'
The forum convened international and Chinese government, academic, and NGO experts in the first stakeholder forum for the development of a new WRI-World Business Council for Sustainable Development GHG Protocol standard for product and supply chain greenhouse gas accounting.
Deputy Director of the Law Carbon Energy Institute at Tsinghua University, Professor Zhang Xiliang provided welcoming remarks, noting the significance of supply chain and embedded carbon issues in China.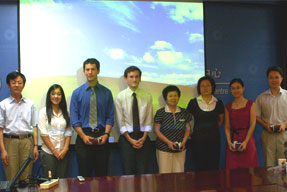 Chinese and international experts presented at a July 16 workshop at Tsinghua University on Product and Supply Chain GHG Accounting.
The workshop marked a significant engagement of Chinese stakeholders, where supply chain greenhouse gas issues are particularly important. As one of the world's largest exporters and GHG emitters, China will need accurate and consistent methodologies for Chinese manufacturers to better manage GHG emissions and to inform areas where life cycle accounting relate to emerging programs or policies for embedded carbon in products.
Policy implications of the new WRI-WBCSD GHG Protocol Product and Supply Chain Standard were among the more talked-about topics of the July 16 dialogue. Professor Liu Qiang of the Energy Research Institute (ERI) of China's main policy-making body, the National Development and Reform Commission, highlighted the increasing need for Chinese enterprises to both grow their business while controlling energy consumption and GHG emissions. Liu suggested that calculation methodologies such as life-cycle assessment and input-output models for evaluating embodied carbon in products provide useful information to inform Chinese development policies. Academics from Tsinghua University and the Chinese Academy of Social Sciences made additional presentations on similar work, emphasizing the urgency and significance Chinese experts are placing on calculation methodologies for product and supply chain greenhouse gas emissions.
China's international NGO community also weighed in with their experiences. Many groups working with Chinese manufacturers on supply chain greenhouse gas management – such as Business for Social Responsibility, WWF and the Climate Group – stressed the need to include the Chinese business perspective in the design of a new standard. With so much of the world's production localized in southern China, a global standard must take into consideration Chinese businesses - their implementation capacity, data availability, and knowledge of energy and climate issues.
This is the first experts meeting in the creation of the new GHG Protocol standard, highlighting the importance of Chinese researchers and policymakers to successful standards development. "China's participation is essential to global institutional development. For an international standard to take hold, China must have a seat at the rule-making table," says Deborah Seligsohn, the Director of WRI's China Climate Change and Energy Program.
WRI and WBCSD are seeking active participation in the GHG Protocol process from high-level Chinese experts in academia and government. The GHG Protocol also plans to convene a consortium of NGOs and other organizations working on supply chain GHG issues in China to participate in the stakeholder process, to ensure that Chinese perspectives are well represented. This fall, WRI and WBCSD plan to hold a stakeholder workshop for Chinese companies and their multinational customers in Guangdong province to discuss practical challenges and barriers, which will inform the new GHG Protocol standard.