On September 16th and 17th, WRI launched its new Corporate Consultative Group (CCG) in Washington, D.C. This group provides member companies with regular exposure to WRI expertise and several opportunities to exchange valuable thinking about shared environmental challenges.
One of the environmental challenges important to the private sector is the struggle to calculate greenhouse gas emissions along the supply chain. Of the CCG's twenty-two founding member companies, sixteen have contributed to the GHG Protocol Initiative's Supply Chain Standard, either through participation in the stakeholder advisory group, technical working group, or through financial support. We consider this involvement an important part of WRI's CCG efforts, as these companies are working with the GHG Protocol to create valuable tools to manage environmental information across the private sector.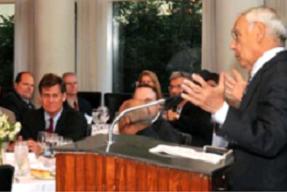 WRI Board Chairman Jim Harmon speaks at the launch of the Corporate Consultative Group.
The benefits of CCG membership include access to WRI's global events, tailored advice, dedicated relationship management, and a truly two-way relationship with the institute's projects and programs. CCG communications are tailored to company staff in a number of locations and departments worldwide, a valuable multiplier effect for member companies. The group seeks to make the analysis, practical tools, and ideas needed to change the social contract of the private sector more accessible.
Founding Members
Akzo Nobel
Alcoa
BP
Caterpillar
Citigroup
Constellation Energy
DuPont Company
Eastman Kodak Company
FedEx
Goldman Sachs
Johnson & Johnson
JPMorgan Chase
Kimberly-Clark Corporation
Monsanto Company
News Corporation
NewPage Corporation
Pfizer, Inc.
SC Johnson
Shell International
Wal-Mart Stores, Inc.
Weyerhaeuser Company
Wheels, Inc.

Please visit the WRI CCG website for more information.
Walton Upchurch, Program Coordinator II in Development at WRI, contributed to this article.