Accounting for 89 percent of end-use electricity consumption, buildings are the focus of a new 'Carbon Audit' campaign aimed to tackle climate change in Hong Kong.
On July 24, Hong Kong's 'Guidelines to Account for and Report on Greenhouse Gas Emissions and Removals for buildings (Commercial, Residential or Institutional Purpose) in Hong Kong' based on the WRI-WBCSD GHG Protocol was launched in a ceremony attended by 37 major organizations, including all of Hong Kong's major property developers, as well as media. Attendees signed on to a 'Carbon Reduction Charter,' which requires organizations to calculate the greenhouse gas emissions from building energy use and to take specific actions to reduce their carbon footprint.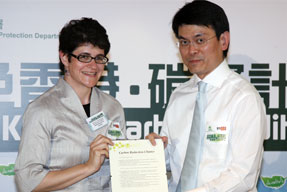 WRI China Climate Change and Energy Program Director, Deborah Seligsohn accepts the Carbon Audit Charter from Hong Kong Environment Secretary Edward Yau.
The guidelines use the accounting framework in the GHG Protocol's A Corporate Accounting and Reporting Standard to provide a systematic and scientific approach to account and report greenhouse gas emissions and removals from buildings. WRI's GHG Protocol team provided technical inputs to the Hong Kong Environmental Protection Department in developing these guidelines to assist in ensuring their consistency with international standards.
Leading by example, the Hong Kong government will be one of the first to conduct a carbon audit of 10 of its own buildings this year. Additional carbon audits of more than 100 buildings are also planned for this year, as Secretary of Environment Edward Yau noted the importance of private sector involvement in this initiative.
Chief Executive Donald Tsang in his 2007-08 policy address pledged to reduce the energy intensity of Hong Kong by at least 25 percent between 2005 and 2030, of which electricity generation accounts for more than 60 percent of greenhouse gas emissions.
"Reducing the level of electricity consumed for operation of buildings is crucial to reducing our GHG emissions," Yau said.
Yau also emphasized that this type of green buildings program will help Hong Kong's overall environmental protection efforts. "Many GHG reduction measures can, in fact, help reduce air pollutant emissions and at the same time improve our air quality."
WRI's China Climate, Energy and Pollution Program Director Deborah Seligsohn also signed the Charter on behalf of WRI, which uses the GHG Protocol to track and control its own emissions. She highlighted the excellent partnership between the Hong Kong Environmental Protection Department and WRI and expressed the hope that the Hong Kong audit methodology and charter program could become a model for other cities in the region. Hong Kong is the first Asian city to develop a national green buildings program based on the WRI-WBCSD GHG Protocol, representing a major step toward understanding and controlling greenhouse gas emissions in Asia.
As a 'Green partner' in the charter, WRI will continue to conduct an annual inventory of its greenhouse gas emissions, which consist of electricity consumption from building facilities and employee commuting and travel, and take actions to reduce and offset these emissions. Read more about WRI's CO2 commitment.